The video could do without Frère Jacques and This Old Man, but it's still worth a watch!
Aragon, an adopted dog, was being taken for a walk by a mountain near Athens when he spotted a box of abandoned kittens.  His mom took them home to raise until they're old enough to find families of their own, and Aragon has been a wonderful foster papa to them.
Aragon's mom is a volunteer for SCARS – Second Chance Animal Rescue Society, Greece.  She lives near the mountain of Immitos, and sees her share of abandoned pets and their belongings, and knows how quickly they can become dinner for prey animals.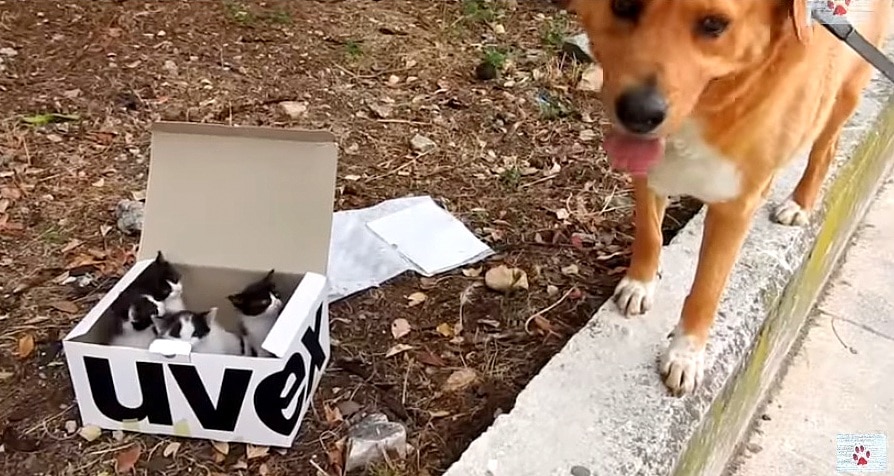 "Abandoned litters of kittens are such a common thing in Greece, that every time we come across one, our usual reaction is 'oh, no, not again,'" reads the description on Youtube.  "Within only a month, SCARS has rescued more than 25 kittens, all abandoned in the same way."
"Almost every day she finds empty cardboard boxes on the mountain (sometimes with the blankets and the toys still inside), but no animals.  Within a few hours since they are abandoned, kittens, puppies, bunnies and even birds (no joke!) become the dinner of a hungry fox (the most common predator on the mountains near Athens)."
"This time, the kittens were lucky. We were walking Aragon near the mountain, actually planning to [do a] video on the huge number of animals abandoned there, when Aragon started pulling us towards their direction – basically he was the rescuer, and he has been an excellent foster dad since day one."
If you would like to help SCARS continue to save animals in need, please click here to visit their website or send PayPal donations to donate@scars.gr.